MULTIVENDOR REPAIR AND TESTING LAB (LMPR)
We are a leading company in developing and providing repair and testing services for multivendor electronic equipment in Argentina, Chile, and Uruguay. Our experience and capabilities allow us to provide repair and maintenance services for a broad range of equipment, including fiber optic/microwave access and transmission technologies, as well as mobile access, data, satellite, video, energy, and air conditioning technologies, and their associated power supply systems.
Our repair service guarantees that the equipment and all of its systems are fully restored to factory specifications and functionalities. Weperform component level repair on boards and modules using the appropriate professional tools and instruments. We buy originalbrand-new components and piecesfrom legitimate suppliers, both locally and abroad. We identify design defects for which we can suggest, test, and implement redesign solutions.
Each and every logistics and technical processes carried out by Melta are recorded, measured, and traceable. The repaired equipment istested in agreement with our Quality Management System requirements.
We have our own internal structure and resources for the management of logistics and contracts—warehouses and our own fleet of vehicles, management software, domestic and international transportation of equipment and tools, insurance policies for goodsintransit and instorage, and import/export temporary and permanent licenses for all the countries we operate in.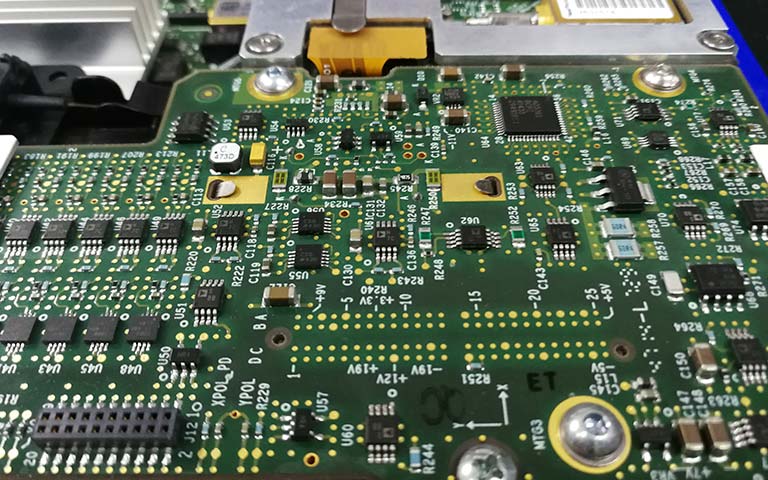 Our solutions:
Component level repair
Detection of design defects and implementation of solutions
On/off tests
Screening
Factory acceptance tests
Design and production of electronic equipment
Our technical intervention results in a longer lifespan of equipment, reduced electrical and electronic waste, and optimization of financial, material, and logistic resources for operators and integrators.